月份雀巢(意大利)新总部大楼U27举行了落成典礼。这幢大楼位于米兰阿萨哥的Milanofiori Nord区域,花费两年时间建成。该项目由Milanofiori 2000委托Park Associati设计,General Planning工程公司负责其施工和管理工作。Park Associati的设计综合考虑了Milanofiori Nord区域铰接式的入口系统、人行步道和公路布局、区域环境因素以及将大楼和谐融入城市总体规划等多种因素。大楼连接北部的森林,与之形成一个综合体;同时其紧密的庭院式布局带来的视觉通透感为周围道路提供了开阔的视野。该设计希望在北面的森林自然景观和该区设计景观之间创立视觉连贯性。为大楼工作人员准备的庭院与外部风景融为一体,是一座名副其实的"秘密花园"。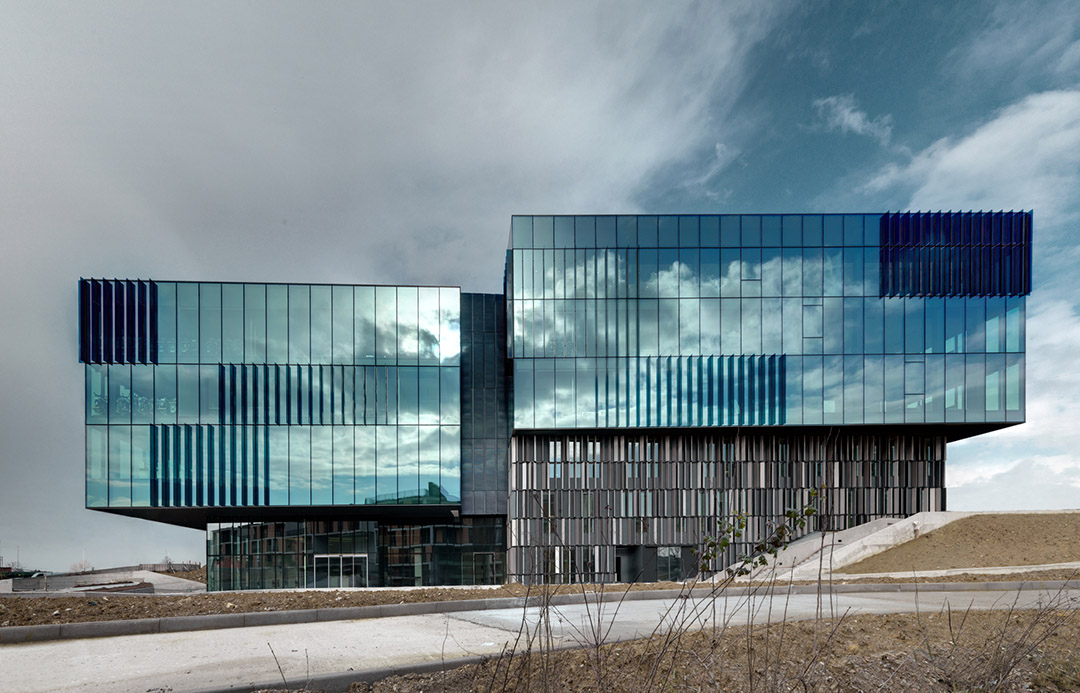 In the month of April, Nestlè Italy inaugurated its new headquarters in the building called U27, completed two years from construction start in the Milanofiori Nord area, Assago (MI) . The architectural project was committed by society Milanofiori 2000 to Park Associati while executive projectand management work have been taken in charge by the engineering firm General Planning
The architectural design by Park Associati is based on an analytical approach to the articulated system of access to the Milanofiori Nord area, the pedestrian walkways and roads, climatic factors relating to the context and the goal of properly integrating the building into the overall masterplan.Its position as a link to an area of forest towards the north led to the development of a complex that while being based on a closed courtyard layout, enables a visual permeability to be maintained in terms of the routes that surround the building. The building has been designed in such a way as to create a visual continuity between the natural landscape of the wood at the north and the designed landscape of the site itself. The courtyard, reservedfor users of the building, relates to the external landscape and is conceived as a kind of "secret garden".
面向半城市广场的入口是始于该区西南部(地铁口)主人行通道的延伸;车辆则被引导至大楼后端的地下停车场。从主入口大厅可以直接看到内部庭院的景观,北向大天窗倾泻直下的自然光线溢满了整个大厅。餐厅是休闲之所,也是员工互动的重要场所,提高了企业的工作环境质量。
 大楼平面紧凑而合理,其立面由一系列精小的区域铰接而成,形成了一个更加轻盈和多区域的建筑合成体。设计师将整栋大楼分成更小的块体,即我们看到的不同大小、不同高度、立面各自微微倾斜的"悬浮盒子"。大楼通过其独特的表面与周围环境建立了联系,从不同的角度呈现不同的景象:有时,它们是自然光线的过滤镜;有时,其紧凑的布局和反射特性又让周围自然环境在这里得到延伸。在某些特定的角度,有色玻璃立面进一步增强了建筑的整体性,同时不影响透明度。
The entrance, that faces onto a semi-urban piazza, has been conceived as a continuation of the main pedestrian access from the south-west of the site(directly connected to the metro station) while service vehicles are directed to the opposite end of the complex to an area that is completely hidden byground. The main entrance hall is in direct visual contact with the internal courtyard and is flooded with natural light by a large, north-facing rooflight. The canteen area is a place for relaxing and an important area for social interaction that adds to the quality of the environment.
While the building appears compact and rational in plan, the elevations are articulated in a series of blocks allowing for a lighter and more 
fragmented composition. This is achieved by dividing the whole building into a number of segments, 'suspended boxes' that vary in size and
height and each with a slightly inclined facade. The elevations establish a link with the context through the nature of the surfaces, perceived 
from different angles, they are sometimes made neutral allowing light to filter through, other times compact and reflective giving continuity to
the natural surroundings. At certain points the composition is enriched with the addition of vertical blades in coloured glass that further articulatethe volumes without affecting the level of transparency.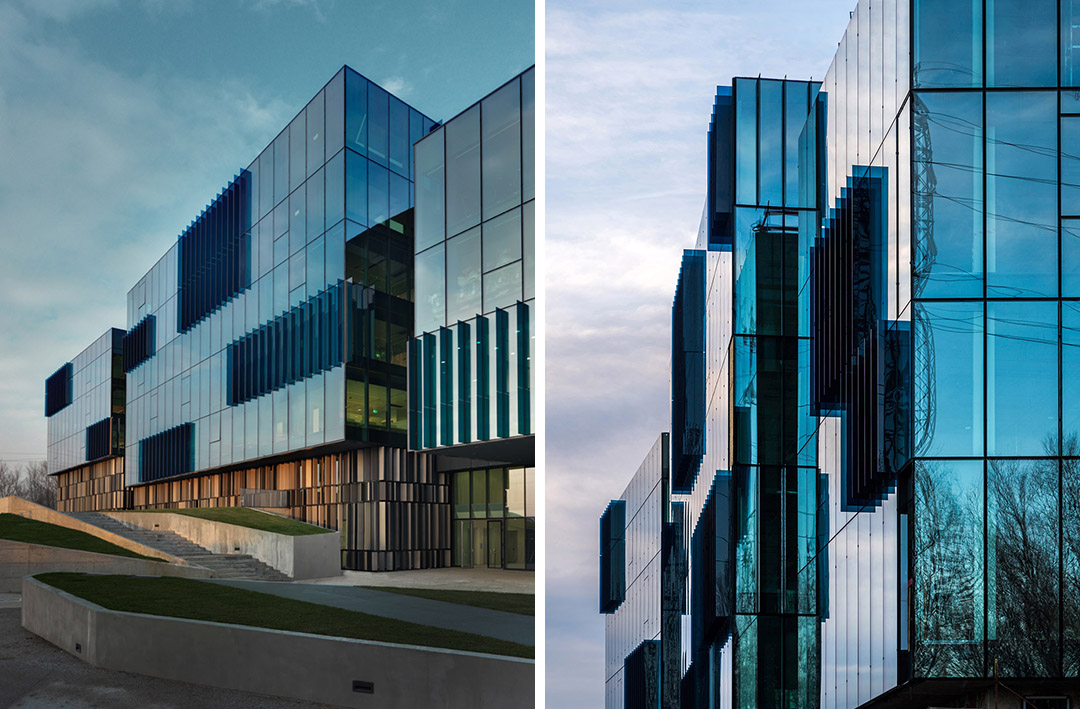 升起的建筑部分自然地嵌入地下,形成一个隐蔽的内部空间;隐蔽空间上部则坐落着配置大楼主要设施的高低不一的建筑体量。铰接式的建筑外壳和流畅的结构与开放式的内部空间连接起来,并形成具有高度灵活性的建筑内部结构网格。
The raised part of the building is embedded into the ground in a natural way to create a secluded internal space on top of which sit volumes at different levels that house the building's main facilities. The articulation of the building envelope and the rhythm of the structure relate to the open-planned interior spaces and act as a grid for generating different configurations for the internal circulation, enabling a high degree offlexibility.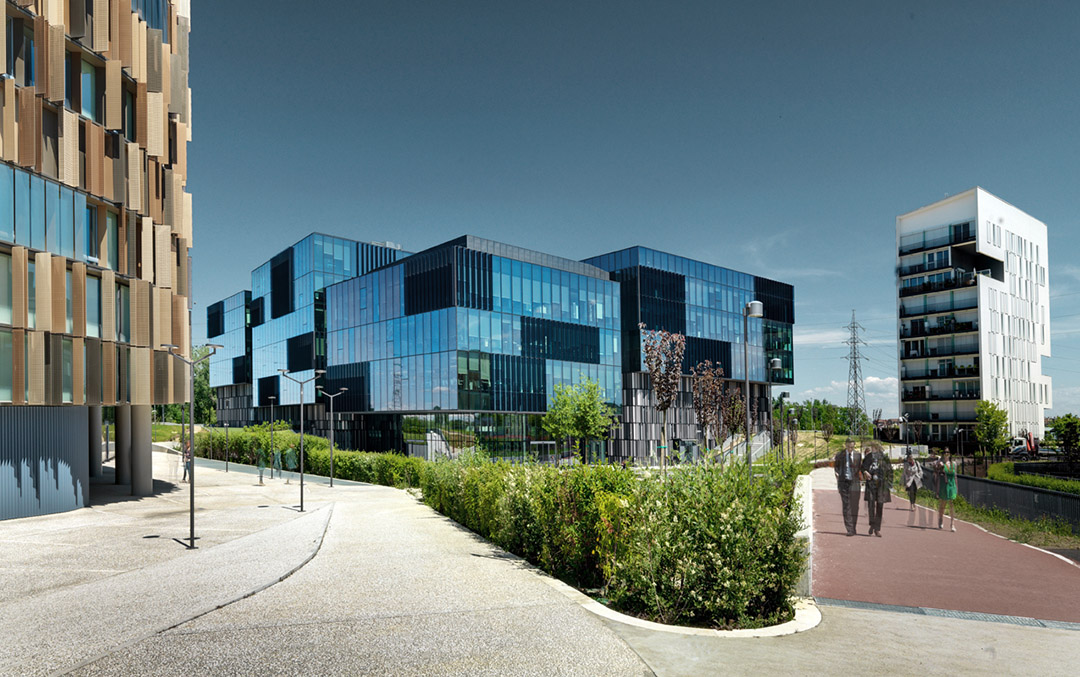 此外,该设计十分重视节能性,被评为LEED Core&Shell金奖。
Considerable importance has been given to energy issues and levels of energy consumption. The building is certified LEED (Leadership in Energy and Environmental Design) "Core and Shell" in Gold class.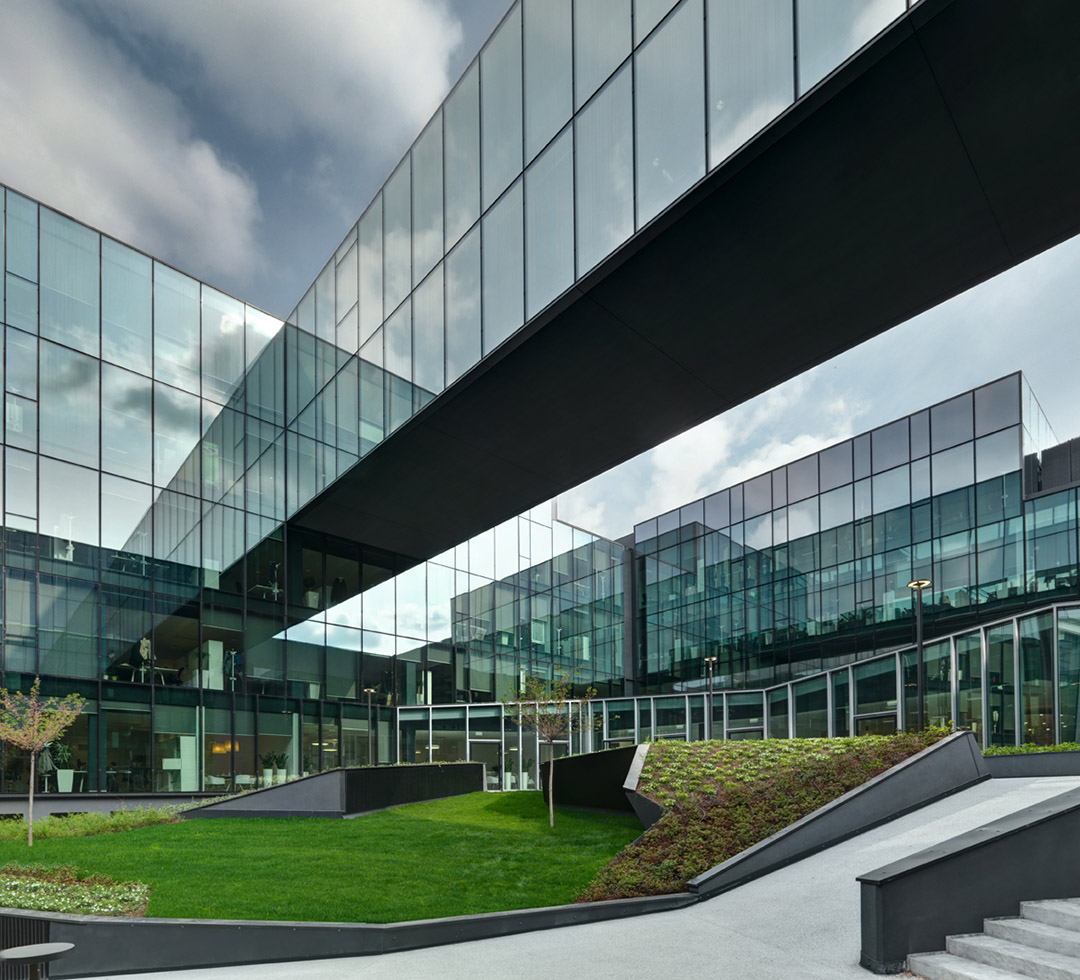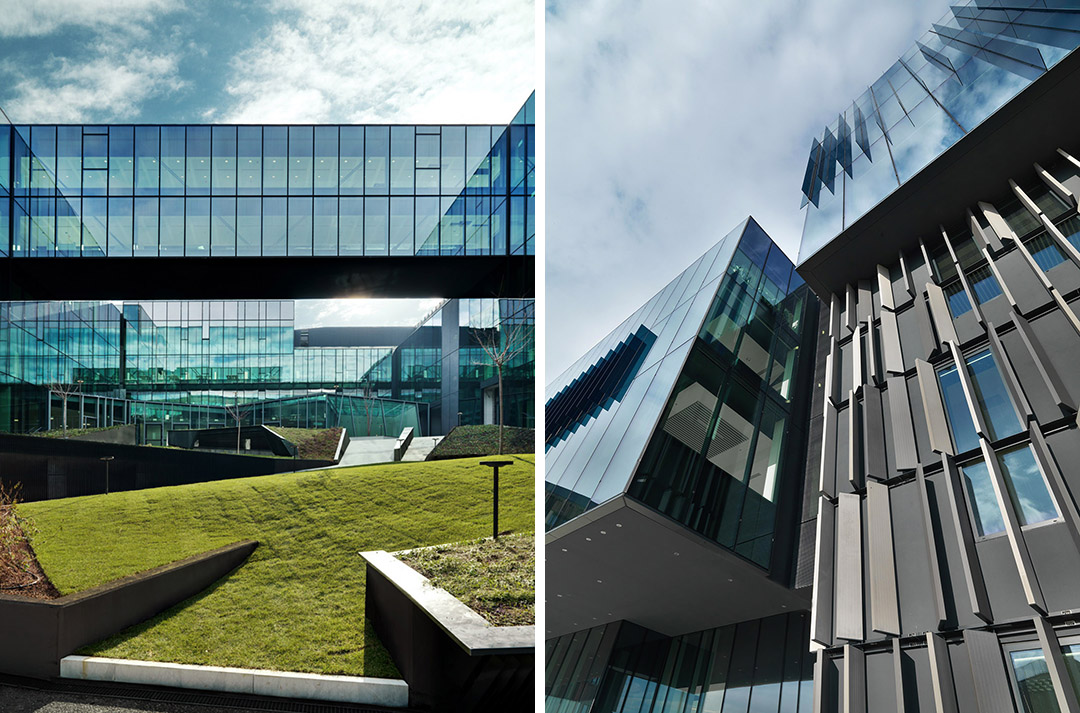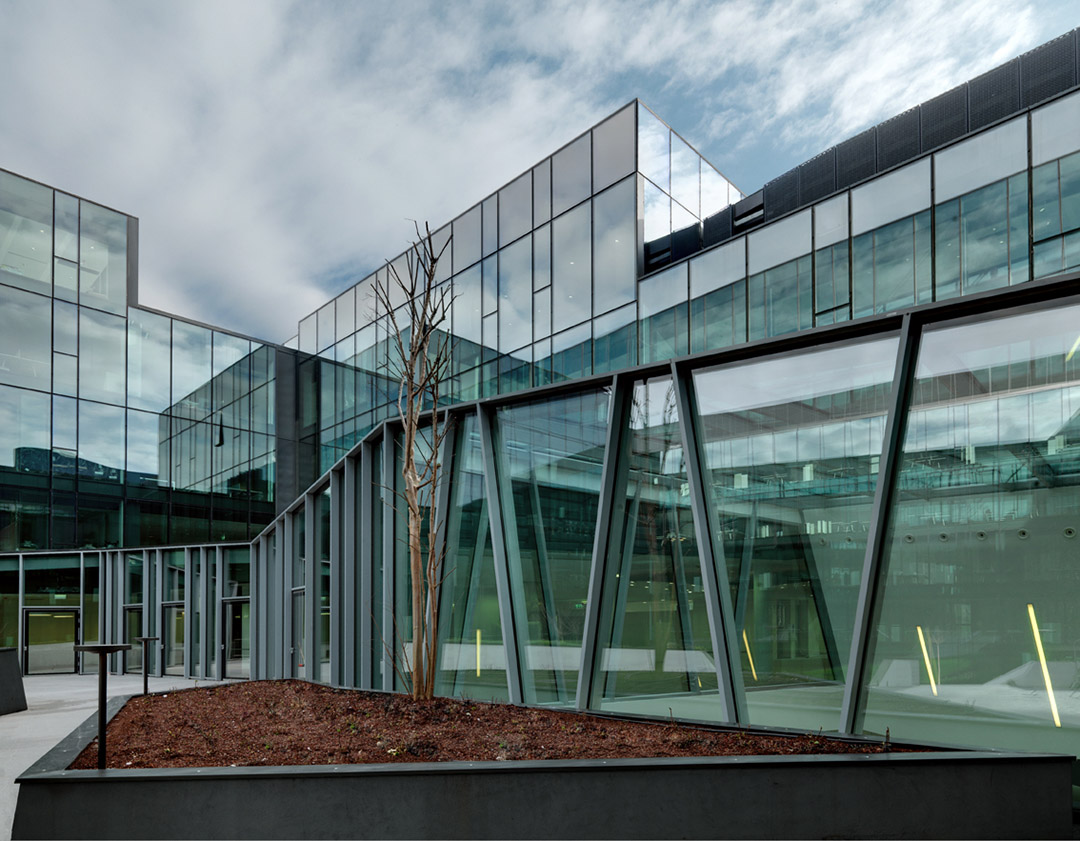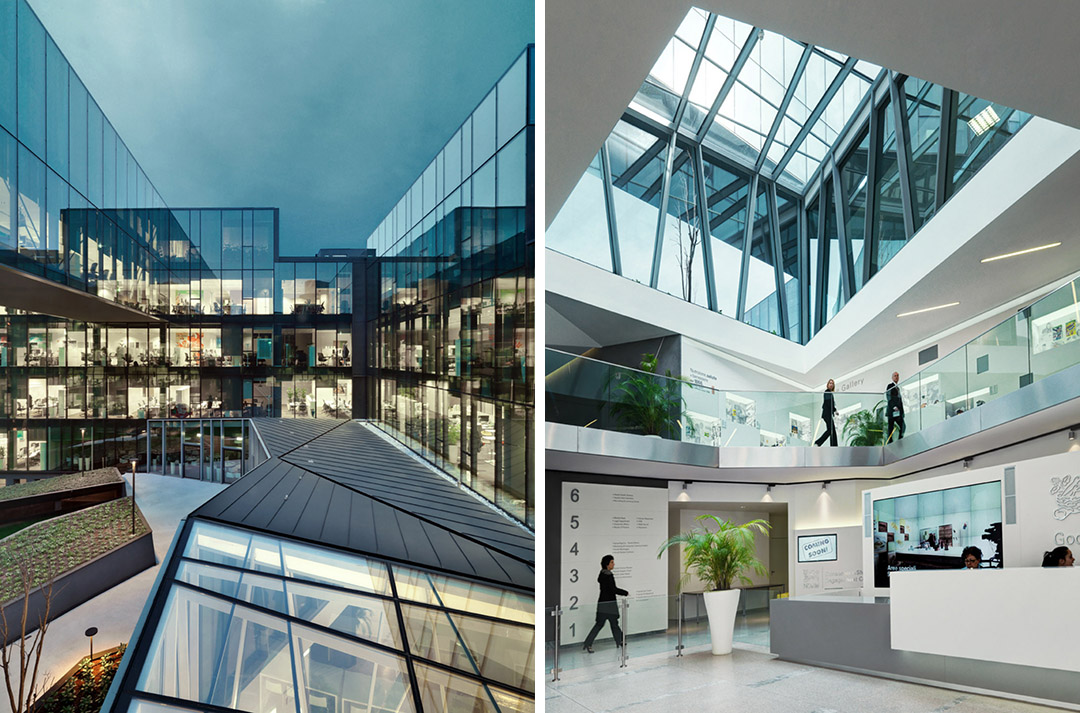 SITE: Milanofiori Nord, Assago (MI) – Via del Bosco Rinnovato
AREA: 22.761 mq
GROSS FLOOR AREA: 22.081 mq
TOTAL SURFACE: 34.092 mq (26.081 above ground  + 8.011 basement)
VOLUME: 115.316 mc
BUILDING: building site beginning, January 2012  – Completion: January 2014
CLIENT: MILANOFIORI 2000 S.r.l. (GRUPPO BRIOSCHI SVILUPPO IMMOBILIARE S.p.A.)
LOCATOR: NESTLE' ITALIANA S.p.A.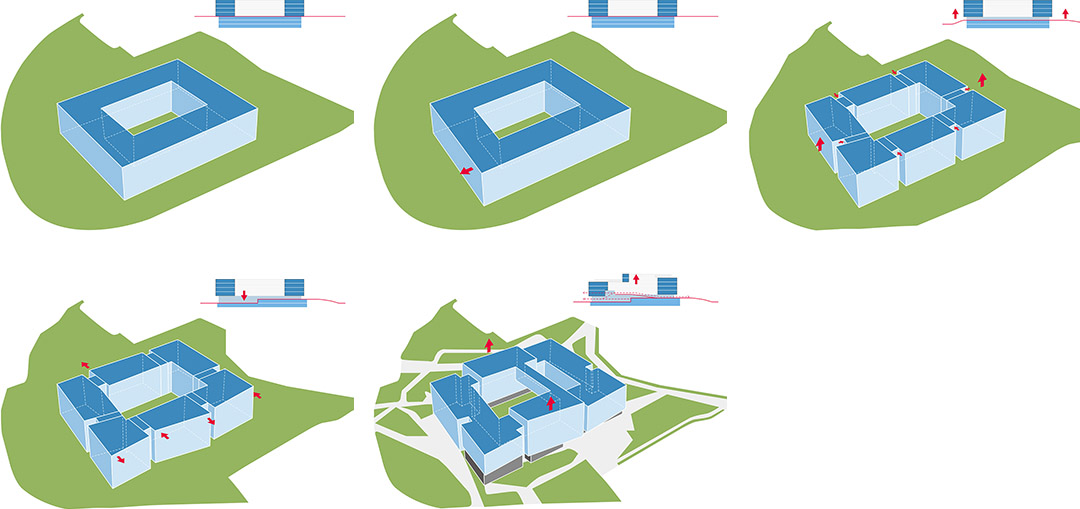 PROJECT
Architecture Project: PARK ASSOCIATI S.r.l. (Filippo Pagliani, Michele Rossi)
Final project for authorizations and executive for architecture, facilities and installations: GENERAL PLANNING Srl (Giovanni Bonini + GP team)
PROJECT MANAGEMENT  AND OUTDOOR AREAS 
Preliminary architectural project: PARK ASSOCIATI Srl (Filippo Pagliani, Michele Rossi) 
Executive Project and Site Works Management: PROITER. LTD (Lorenzo Badalacco)
DIRECTION OF WORK AND ARTISTIC DIRECTION 
Art Direction: PARK ASSOCIATI S.r.l. (Filippo Pagliani, Michele Rossi) 
General Direction and Specialist Jobs: GENERAL PLANNING Srl (Giovanni Bonini + GP team)
SECURITY COORDINATION
Works Manager + Safety Coordination: GENERAL PLANNING Srl (RL Giovanni Bonini – CS Vittorio Viganò)
SPACE PLANNING
DEGW ITALIA S.r.l. (Guido Bastiani, Valeria Romanelli, Giuseppe Pepe)
COMMON AREAS PROJECT AND INTERIOR DESIGN
PARK ASSOCIATI S.r.l. (Filippo Pagliani, Michele Rossi)
DEGW ITALIA S.r.l. (Guido Bastiani, Valeria Romanelli, Giuseppe Pepe)
REDESIGN STUDIO (Gianluca Rossi, Maria Quattrina)
LEED CERTIFICATION: GENERAL PLANNING S.r.l. with GREENWICH S.r.l.
TECHNICAL COORDINATION: GUIDO LEVI
DESIGN TEAM PARK ASSOCIATI S.r.l.
Filippo Pagliani, Michele Rossi
Marco Siciliano (design leader), Marinella Ferrari, Stefano Lanotte, Lorenzo Merloni, Marco Panzeri, Davide Pojaga, Alessandro Rossi, Elisa Taddei, 
Paolo Uboldi, Fabio Calciati (renderings)
DESIGN TEAM GENERAL PLANNING S.r.l.
Giovanni Bonini (RL, DL)
Paolo Varenna (Project Management)
Loris Colombo (progetto e DL opere strutturali)
Luca Dagrada (progetto e DL impianti)
Laura Barat, Matteo Molteni, Luca Rini, Paolo Rossanigo, Antonio Virelli, Alberto Villa, Claudio Bertolini, Mimmo Vitetta, Luigi Zinco, Walter Cola, 
Andrea Cristaldi, Vittorio Viganò (CS), Claudio Bertagnolli, Manuel Schieder, Francesco Torchitti, Mario Pinoli (LEED), Giuseppe Zaffino (LEED).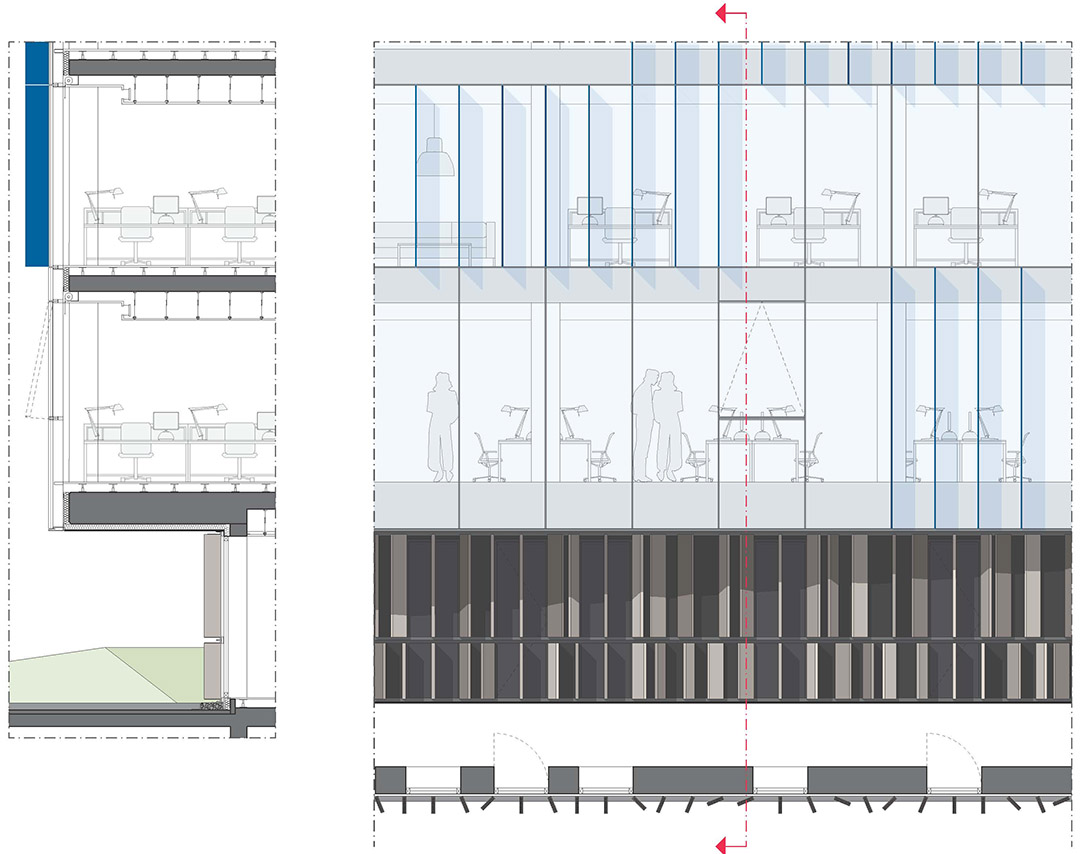 PHOTO
Andrea Martiradonna
Simone Simone
MAIN SUPPLIERS
Zemtech GmbH, Lana, (BZ), Italy
Concrete structures
Focchi Spa, Poggio Torriana, (RN), Italy
Curtain walls
Palagio Engineering, Firenze, Italy
Terracotta wall cladding
Mattarozzi Spa, Novate Milanese, (MI), Italy
Ceiling production and placing
OCML, Costa di Mezzate, (BG), Italy
Carpentry
Bosisio Srl, Marmi, Pietre, GranitoMilano, Italy
External flooring and atrium
项目来源: Park Associati