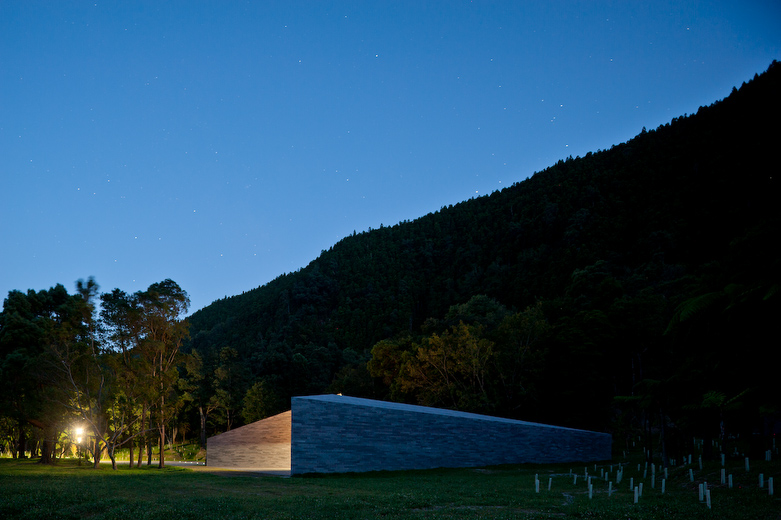 Architects: Aires Mateus
Location: Lagoa das Furnas, Portugal
Collaborators: Valentino Capelo de Sousa, Mariana Barbosa Mateus, Catarina Belo, Francisco Caseiro, João Caria Lopes
Client: SPRAçores
Project area: 1,130 sqm
Project year: 2008 – 2010
Resume
The project intends to evoke the architectural landscape of the Azores, drawing upon the form and material that embed the collective memory of this island and archipelago, that have become, with time, a second nature of this place. Therefore the buildings are archetypal volumes, simple and compact, clad with the local basaltic stone.

The Furnas Monitoring and Investigation Centre
This building asserts itself as the largest of the group to build around the lagoon. Being the most exceptional building, the Furnas Monitoring and Investigation Centre draws on an intermediate space between exterior and interior – the courtyard. This element results from a subtraction to the volume, cutting it from within the central zone (the vertex of the four roof fields) to the exterior limit of a facade thus enabling access to the interior.
 This internal courtyard also becomes the point where the main internal compartments are revealed. These spaces, truncated by the subtraction that defines the courtyard maintain all relations between interior/exterior. The building was therefore conceived as a sculpture, as a block of raw matter that is intentionally cut into to capture light and the lagoon itself.
Accommodation for researchers
The building for temporary accommodation is a compact volume of four fields compartmentalised into four units. The building is cut in each of the four facades by a wooden threshold that enables the penetration of light and access to each of the accommodation units. There is an established hierarchy of heights between the four spaces related to the solar orientation of each unit. The exterior wall of the building is structural where the necessary infrastructures and services run as oppose to the light interior timber walls.