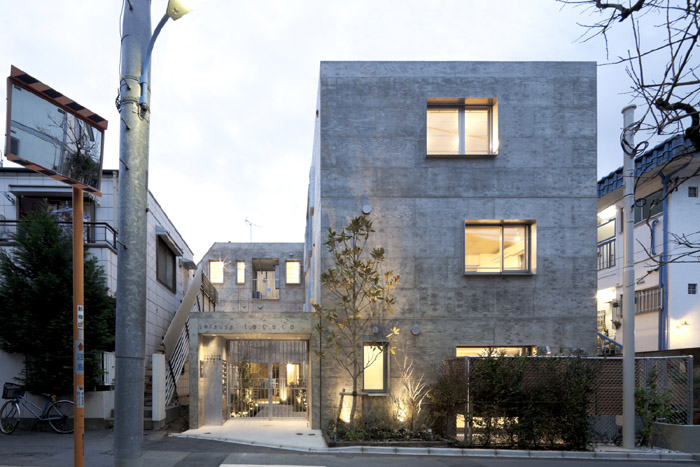 Projects data
Name of project: yotsuya tenera
Location Yotsuya, Tokyo
Function Housing
Architecture Architect\ Akira Koyama + KEY OPERATION INC. / ARCHITECTS
Design team \ Akira Koyama + KEY OPERATION INC. / ARCHITECTS
Supervision\ Akira Koyama + KEY OPERATION INC. / ARCHITECTS
Structural Engineer\ Delta Structural Consultants
Engineer\ EOS Plus
Air-condition\ EOS Plus
Interior\ Akira Koyama + KEY OPERATION INC. / ARCHITECTS
Landscape\ Akira Koyama + KEY OPERATION INC. / ARCHITECTS
Quantity Survayor\ GEN Architectural Management
Construction Architecture\ Fujiki Komuten
Engineer\ Fujiki Komuten
Air-condition\ Fujiki Komuten
Interior\ Fujiki Komuten
Landscape\ Fujiki Komuten
Materials
Outside wall\ Larch plywood textured concrete
Entrance\ Galvanized steel
Interior\ Larch plywood
Landscape\Interlocking concrete pavement
Site Area 241.37 m2 Construct Area 128.01 m2
Gross Floor Area 380.01 m2 Floor Numbers 3
Design Date (from June 2009 to March 2010)
Completion Date (from May 2010 to December 2010)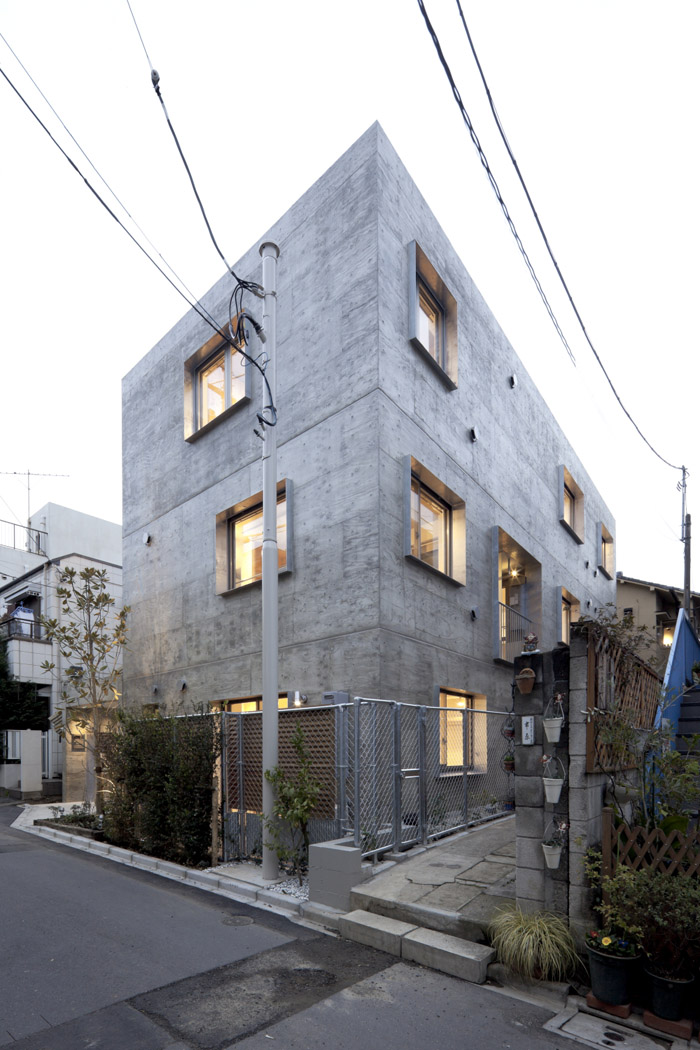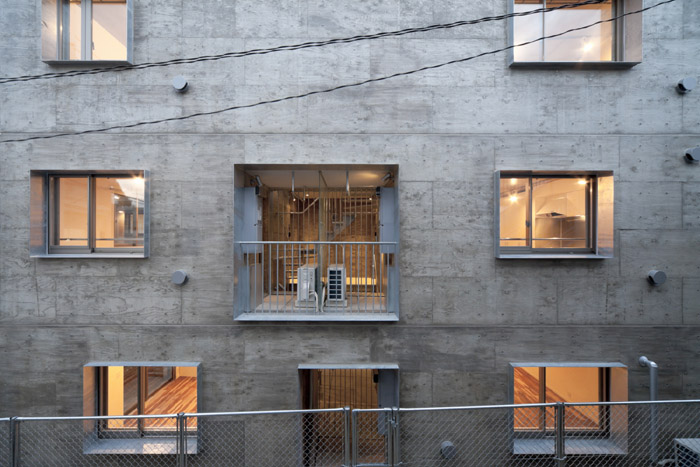 The project site is in Tokyo, Yotsuya located in a quiet residential area right behind the Shinjuku
Street. This area holds many temples, shrines and also fairly dense housing. Like a spreading
network of space, those houses and complexes fill the blank spaces between the streets and
alleys.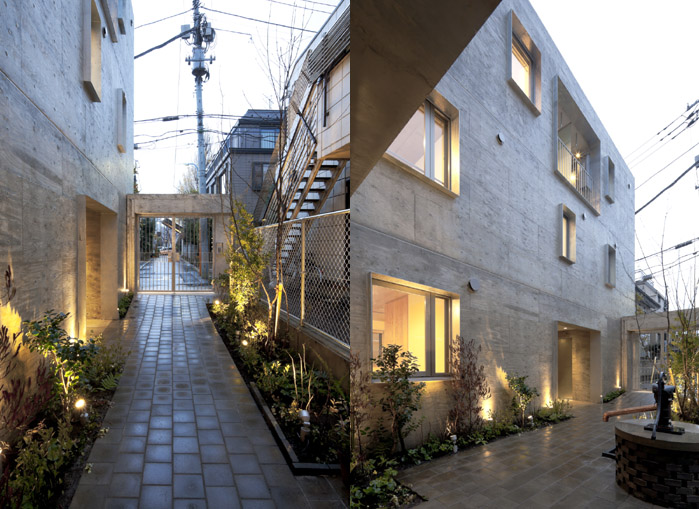 In this scheme, 2 void spaces were provided within the building mass as functioning staircases.
With these compact staircases, the floor area of the rental area is increased.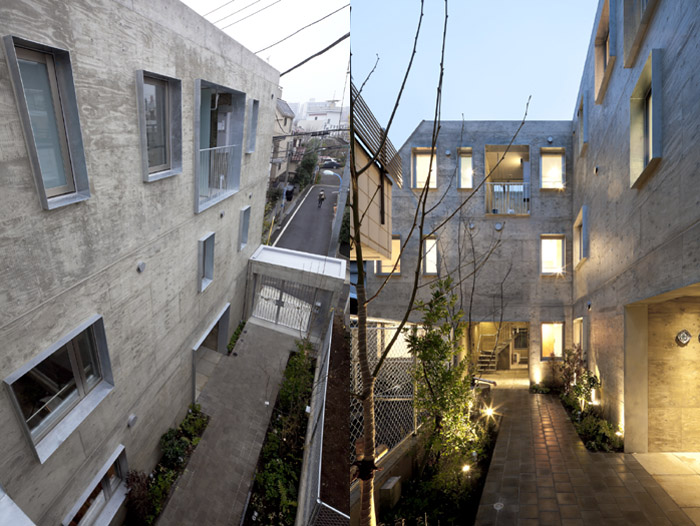 The void space is linked with each residential unit's balconies as continuous Tree-Shaped Void
Space and spread throughout the balconies, towards the gaps in neighboring residential
buildings, the courtyard, the passage at the back, and the neighboring apartment corridors.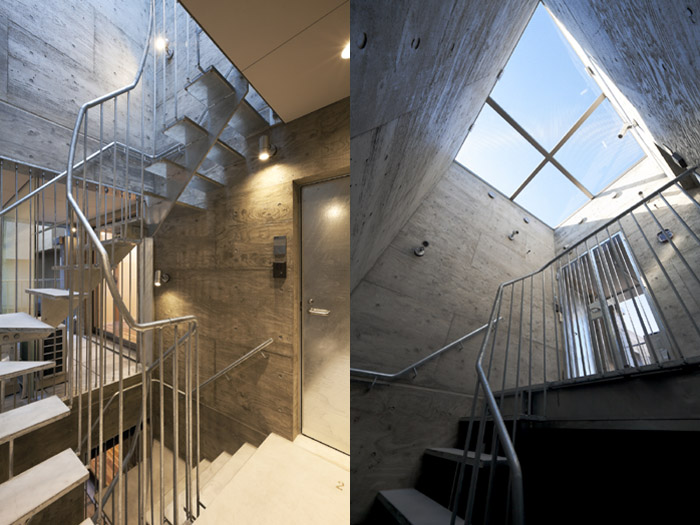 All the dwelling units have either balcony spaces or terraces. Walking into a dwelling unit from the
staircase, through the dwelling unit, and come out to the balcony, the staircase appears once
again. The far end of each unit is linked with the entrance area at front through the void. Keeping
the great sense of privacy in the unit layout, this void is meant to create a sense of community
and encourages interactions among dwellers.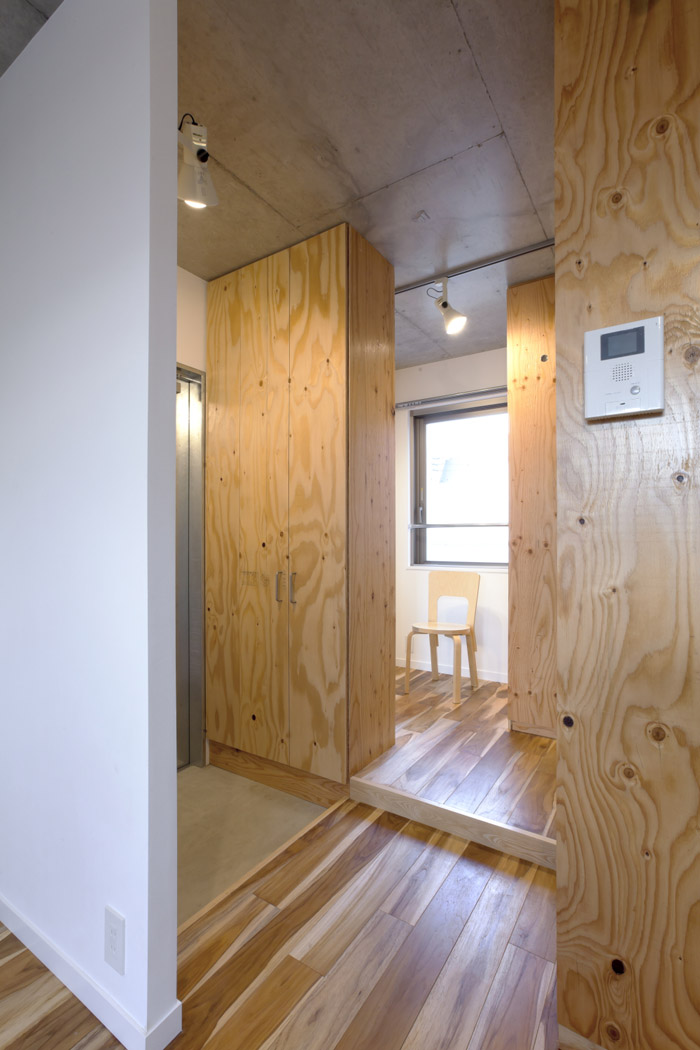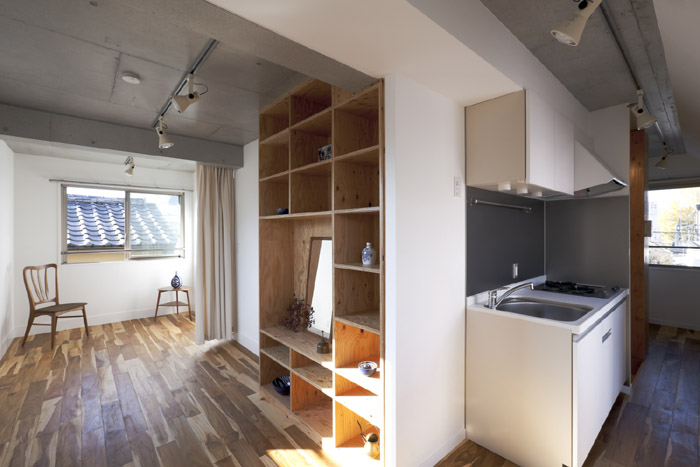 Concrete texture of this project is one of the important design criteria. In comparison with the
surrounding buildings, the volume of this complex is relatively larger, but it still balances up with
the scale of the surrounding buildings with its appearance; harsh cast concrete finish was
softened with wood texture to create friendly and harmonious appearance.